When Is It Valuable to Use 3D Printing SLS?
By Marie-Christine Flibotte February 20 2023 - Tech tips and tutorials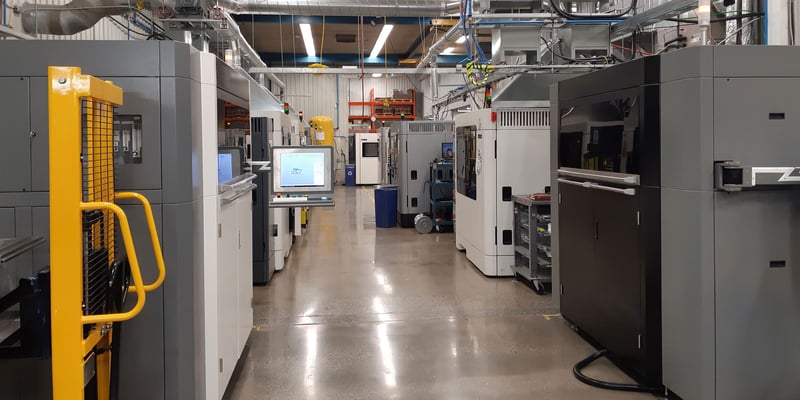 Solaxis has been providing high-resolution SLS (selective laser sintering) equipment for several months now. 3D printing SLS makes it possible to meet a wider variety of engineering needs, whether it's the search for a specific material, physical, mechanical and functional characteristics, the proof of concept, rapid prototyping, or the production of low­ and intermediate­ volume series. Here are some examples of situations where it can be valuable to use SLS technology.
When to Use 3D Printing SLS in the Electronics Industry
The "open-type" laser sintering printing equipment allows great flexibility in the choice of thermoplastic materials. Applications in the electronics sector are various, whether validating a proof of concept or printing series of 500 to 600 parts.
For example, polyamide nylon 11 ESD (PA11 ESD), with very interesting antistatic properties for this industry, is used for the production of different casings and covers for sensitive electronic components.
The antistatic properties of PA11 ESD can also be interesting for the manufacture of various tools dedicated to the handling of electronic parts (for example resistors, diodes, etc.).
When to Use SLS Technology in the Healthcare and Medical Equipment Industry
The characteristics of the materials are also of paramount importance in the health sector, as it is sometimes necessary to consider the issues of biocompatibility and cytotoxicity. In this context and thanks to the flexibility offered by the SLS industrial 3D printing technology, Solaxis produces parts in polyamide nylon 11 (PA 11) or polypropylene (PP), according to customer requirements, such as:
personalized orthotics,

medical casings,

various components for medical equipment,

etc.
In addition to biocompatibility issues, PA 11 or PP are also selected for the high­ mechanical properties they confer to medical products.
The surface finish of the parts is also important in the health sector, for example to obtain orthotics or other medical components requiring a smooth­ type finish or even "washable" and "sealed". To this end, Solaxis has post-treatment equipment to achieve these different requirements, such as the automated and environmentally safe forced steam sealing process.
When to Use 3D Printing SLS in the Ground Transportation Industry
Manufacturing auto parts and specialty vehicles can present several challenges, such as:
geometric requirements (design, dimension),

desired mechanical properties (strength, durability),

resistance to high temperatures,

chemical resistance (ex. to oil and petrol),

etc.
When it comes to small or medium quantities (prototyping phase or pre-production), SLS proves to be advantageous. The combination of SLS technology, specific materials such as polypropylene (PP), polyamide nylon 11 (PA11), polyamide nylon 11 carbon-filled (PA11 CF), polyamide nylon 11 ESD (PA11 ESD) and post-processing operations available at Solaxis, allows for meeting these distinct needs.
As an indication, SLS industrial 3D printing is quite appropriate for the transport sector to produce the following parts:
interior and exterior panels (ex. body),

various interior parts,

engine components,

and tanks and other systems.
When to use
SLS 3D Printing Technology in the Defence and Security Industry
Teams working in the defence and security sector use various printed prototypes of high added value for large-scale presentations and specialized events (for example military equipment parts, vehicle components).
In fact, it is easier to make a sales pitch and especially to conclude it when these professionals have a product at hand to present to their potential customers. They can actually manipulate it and thus judge its tactile and functional aspects.
In the defence and security sector, 3D printing SLS can also be used for the production of:
final parts or functional prototypes of various equipment,

interior and exterior components of military vehicles,

final or replacement parts that withstand chemical exposure and extreme temperatures.
With the goal of meeting the demand of manufacturers from the defence and security sector, some projects are sensitive and require specific accreditation. This is why Solaxis uses its expertise, among others, through the Controlled Goods Program and NIST 800–171 for cybersecurity according to CMMC – Cybersecurity Maturity Model Certification.
When to Use 3D Printing SLS in the Aerospace Industry
3D printing SLS represents a major opportunity for the aerospace sector. This technology makes it possible to respond to various challenges, such as:
optimal solution for small parts in low-volume series,

design flexibility,

lighter aerospace components,

reduced number of parts / part consolidation, thus a simplified assembly process.
Application types can then include various interior parts such as ducts, casings, supports, fasteners, clamps, and frames.
Solaxis is evaluating the possibility of integrating certified SLS materials for aircraft parts, such as in its FDM line, where they are the most used. SLS additive manufacturing combined with the use of high­ performance thermoplastics certified for aeronautics will offer a complementary solution to FDM and will allow an advantageous solution for low­ volume series of small complex parts for aircraft interiors.
When to Use SLS Technology in Industrial Production
SLS additive manufacturing provides high precision in details and makes it possible to manufacture parts with small wall thicknesses, without significantly affecting their mechanical properties (strength, durability). These are significant advantages for industrial applications.
To name a few examples:
Low-volume series of components for production equipment,

Health and safety parts,

Propellers,

Safety guards,

Clips, supports and fasteners,

Modular assembly systems,

Jigs and fixtures,

Specialized tooling,

Robotic end-of-arm tooling,

Etc.
Opting for 3D printing SLS opens the door to a variety of applications. As a result, this technology finds its place in various sectors such as electronics, health, transport, defence, as well as industrial sectors.
Do you want to validate a concept, design a prototype, or produce parts in low­ and intermediate­ volume series? Contact us, it will be our pleasure to help you!